Description
This economical. serial-numbered tamper evident tape is constructed with polyester film (.001 inch thick), hot melt adhesive, and features a partial adhesive transfer.  It is designed to show tamper evidence within 1 hour on many surface and performs best on non-porous surfaces (metal, glass, most smooth plastic, virgin cardboard, etc).
When used with cartons made with high recycled content, this tape may tear (or scalp) the carton surface without showing the hidden tamper evident message. Pallet films are also susceptible to tearing without tampering the tape. For these types of applications, we recommend our Premium Tape (PVT or EVT) or Standard Hot Melt Tape (PFT or EFT).
This tape is TSA-CCSP compliant.
Hidden Message: OPENED (May vary from graphic shown)
Printed Instructions on tape reminds receiver of security features:
"IF WORD 'OPENED' APPEARS, CHECK CONTENTS"
Unique Serial Number
Pre-assigned Serial Number — improves security; for added security record the serial number on the bill of lading.
Adhesive residue: Typically 50% or more of the adhesive remains on the surface. Those tapes marked "HIGH RESIDUE" will leave about 90% adhesive residue.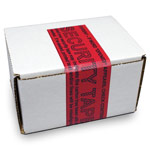 Before Tampering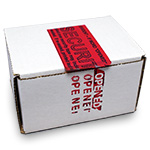 After Tampering
After application, when removed the security tape will self destruct, leaving words or symbols on the package and in the security tape itself.
Benefits
Protects your products and equipment
Controls access to shipping cartons, pallets, and other containers
Indicates tampering or pilfering